Posted by Enchanted Florist on 31st Jan 2018
The History And Folklore About Carnations
The carnation is perhaps one of the most quintessential domesticated flowers known to the human race. Known taxonomically as diathus caryphyllus, it has been cultivated by humanity for so long that it's a bit unclear where the flower came from in the first place. Records of up to 2,000 years ago clearly describe it being cultivated in the gardens of multiple societies in the ancient Mediterranean world, ranging from Imperial Rome to Egypt to Judea. Most of the ancient records seem to describe it as having already been well known to the people of that era and place, making this lovely flower's true origins one of the great mysteries of flowers.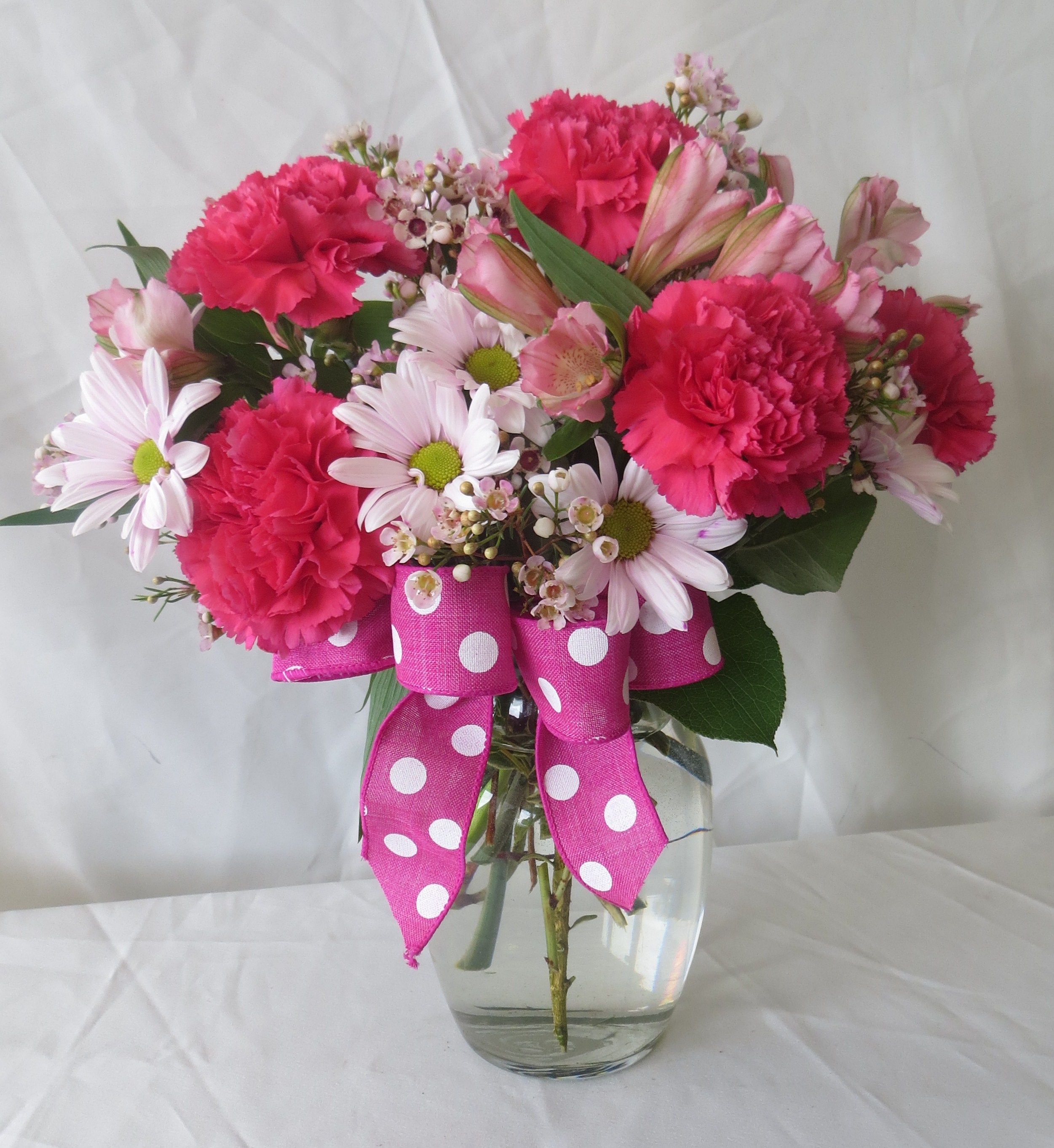 About It's Origins
A herbaceous and perennial flower, these plants generally grow up to 80 centimeters. The leaves are a grayish green color, sometimes ranging to grayish blue-green. The stems are slender and reach a height of around 15 centimeters long. The flowers grow either alone or in groups of up to five separate flowers.
The flowers themselves are between 3 and 5 centimeters in their diameter. The scent of a carnation is sweet, though some cultivars of the plan have little to no fragrance for use as a clothing accessory, most typically a boutonnieres flower, traditionally worn by men for special formal occasions, though nothing stops women from bucking tradition as they see fit.
The flower itself has a range of colors. At its most basic the petals of this beautiful flower are a bright pinkish purple. That said, a number of colorful cultivars of this plant have been bred into human gardens over the centuries. Flowers in shades of green, yellow, white and red all exist in great numbers, and many plant breeders find themselves interested in cultivating new strains that produce different colors.
Folk Lore And True History
There are a number of colorful legends and tales in the history of this long-lived flower. While likely not a tale meant to be taken literally, a number of legends that sprang up during the Middle Ages tell a story of how carnations originally appeared on Earth as Jesus brought the Cross to Golgotha. The story goes that the Virgin Mary shed tears, and the first of these flowers sprang up where the tears fell. While this story is almost assuredly a tale intended to a heart rending story for a bard's audience centuries ago, the pink coloration has none the less become a symbol of motherhood and a mother's love for their child.
In the Netherlands, HRH Prince Bernard was known for wearing one with white petals before and during his exile from his country during the Nazi occupation. Many Dutch citizens wishing to defy the Nazi regime wore these flowers as well, as a quiet gesture of resistance to the invaders. When the war did end, the flower became a symbol not only of the prince, but also of Dutch military veterans and a remembrance of the resistance movement of the era that risked and sometimes lost everything to fight fascism.
Order Carnations from Your Pasadena Florist
Carnations are a wonderful flower, coming in so many colors, they give us florists the ability to create beautiful bouquets in so many different themes. If you are looking for a beautiful bouquet that includes carnations, or any type of flower arrangement, Enchanted Florist in Pasadena is here to help create special moments for you.
---
Enchanted Florist
4416 Fairmont #104
Pasadena, TX 77504
(832)850-7677
Find us on:
We are located at: