Posted by Enchanted Florist Pasadena on 15th Feb 2018
Every month we cover yet another beautiful flower or plant in our Flower of the Month Spotlight. This month we cover the springy daffodil. And for a short time, you can get these amazingly springy flowers from your favorite Pasadena florist.
Interesting Things You Should Know About Daffodils
Daffodils are flowers that symbolize friendship. They are also featured on the list for the "most popular" flowers, mainly due to their intrinsic beauty. The daffodils belong to a genus known as Narcissus, with the flowers featuring trumpet-shape structures which are set against star-shaped backgrounds.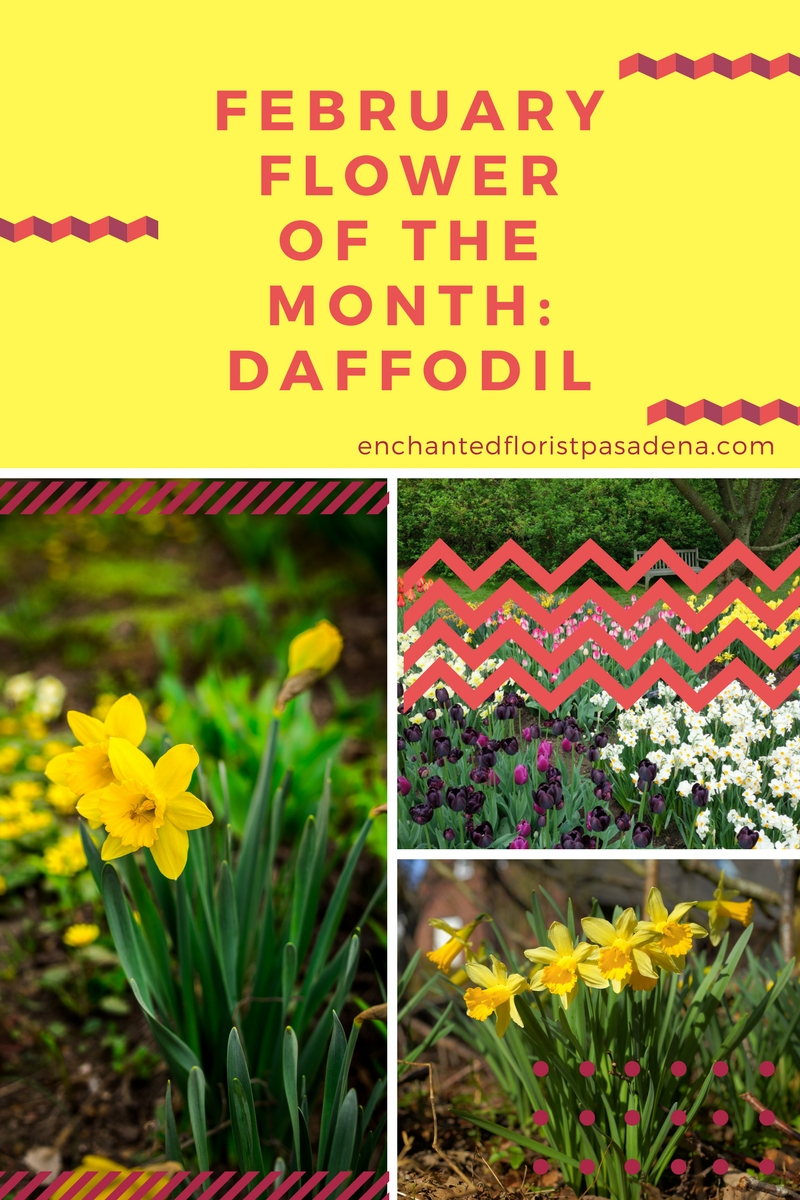 In most cases, the trumpet shape of the flower will be a color that is contrasting from its background. The daffodils include the White Narcissi and the yellow cluster-flowered Jonquils, along with the trumpet-shaped more common flowers.
About Growing Daffodils
The daffodils are flowers that grow from a bulb perennially. In the temperate climates they will flower with the earliest of the blooms in the season of spring. They typically grow in clusters, that can cover your entire lawn or even a hillside in a vibrant and attractive splash of yellow.
The depth for these flowers as the general rule, should be three times the height. What this means for the large bulbs is that the depth should be around 6-8 inches, while the medium sized bulbs should be 3-6 inches in depth and smaller bulbs should be around 2-3 inches in depth. Keep in mind that the actual load associated with your soil can help to protect your bulbs from breaking as well as assist them in staying upright for a lot longer.
If the load of the soil and the depth is not right, your daffodils will start to bend. Even though the blooms will appear in large clumps, the actual flowers and the bulbs will typically be scant.
Everything You Should Know About Caring For Your Cut Daffodils
You should purchase your daffodils when they are still slightly closed. They will quickly start to open after you place them into water. Daffodils let off sap that is deadly or harmful to other types of flowers. For this reason, it is better to only use daffodils in your flower arrangement. If you want to include your daffodils in mixed flower arrangements, you should soak the stems of your daffodils in water overnight in cold water. This will release some of sap that causes harm to other flowers.
When placing your daffodils in a vase, partially fill the vase using water at room temperature. Daffodils typically prefer shallow water, so don't fill your vase more than two inches of their stems.
If you want your flowers to last longer, you can add a floral preservative to the water. Before you place your daffodils into the vase, stand the flowers against the outside of the vase to determine how short or long you would like them.
When cutting the stems, cut one daffodil at a time. Cut at an angle using flower shears or a sharp-knife or blade. If you are not sure about the height, rather cut the daffodils longer, as you can always cut them shorter later.
Another optional tip is to gently remove their protective husks. To get the most out of your cut daffodils, replace the water and flower preservative every day, followed by cutting the stems with your clean flower shears or a sharp blade or knife.
Ordering Fresh Flowers
To order some beautiful yellow daffodils, call your local Pasadena florist, Enchanted Florist today!
---
Enchanted Florist
4416 Fairmont #104
Pasadena, TX 77504
(832)850-7677
Find us on:
We are located at: